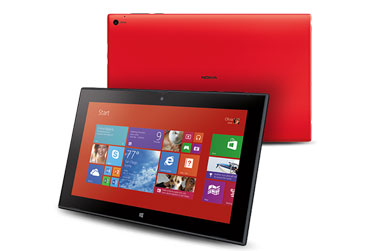 The Lumia 2520 Windows 8.1 RT tablet will be available in a couple of days (on Nov. 21st), that's right you can pick up Nokia's first ever and probably last tablet in 2 days from... Verizon for $399.
I think this will go down as the highest selling Windows 8.1 tablet, it will probably surpass the Surface in sales, Nokia is a well recognized brand than the Surface and it looks like that will be a major selling point when the tablet goes on sale in not just the US but around the world.
Regardless of the limitations of Windows 8.1 RT, I predict pretty decent sales numbers for this tablet, it surpasses the Surface in a lot of ways; As Nokia has followed in its Lumia tradition and released exclusive apps to the tablet including Nokia Here maps, Nokia StoryTeller, Nokia Director and more.
The Lumia 2520 is a 10.1inch full HD display tablet, running on Quad-core 2.2 GHz Krait 400, with Adreno 330 graphics chip, a 2GB memory, 32GB internal storage with exapndable storage via MicroSD up to 32GB, it also has a microSIM slot so you can use either cellular data or the in-built WiFi and with a 8,000mAh battery that has the innovative fast-charging feature thats allows you to charge the tablet from 0% to 80% within an hour.
So who is getting one? At&t? Verizon?
Source:
Verizon